Fleet Auto Body has been reconized by Honda Canada as a ProFirst Certified Collsion Repair Facility!
Fleet Auto Body announces that it has become a ProFirst Certified Collision Repair Facility.  This is a premier collision repairer certification program by Honda Canada Inc. for Honda & Acura vehicles.  All ProFirst Certified shops have been validated for their skill and expertise, commitment to a complete, proper and safe repair, to ongoing industry education, and to customer satisfaction.  Each ProFirst shop has been validated by an independent third party to help ensure a high standard of repair quality. 

Fleet Auto Body earns Official Certification by Certified Collision Care
Fleet Auto Body announces that once again they have earned the Certified Collision Care Official Certification.  To become certified Fleet Auto Body has passed the rigorous Certification process essential to help ensure a proper and safe repair of the new generation of advanced vehicles.  Less than 5 percent of body shops across the nation are able to meet the stringent requirements to become officially Certified and recognized.  The certified network is made up exclusively of best-in-class collision repair businesses that have met or exceeded the strict requirements of the Certification program.  The Certification criteria are based upon auto manufacturer requirements.  These are critical to ensure the vehicle fit, finish, durability, value and safety following an accident.  As new model vehicles are being introduced a proper repair according to manufacturer specification is even more important than ever to ensure the passenger safety and proper performance of the vehicle.  Fleet Auto Body (1984) Ltd. is officially a Collision Care Provider and represent the standard by which all other body shops are measured.  Certified Collision Care is the Canadian division of Assured Performance Network, the largest network of OEM Certified repair providers in the world.  Visit www.collisionccare.ca for more information.

Fleet Auto Body has been nominated Employer of the Year - Urban
Fleet Auto Body is very proud to announce its nomination for the 2018 Apprenticeship Manitoba Awards of Distinction, Honouring Excellence in Training  Education, in the category of Employer of the Year - Urban.
Trade: Motor Vehicle Body Repairer (Metal and Paint)
Nominated by:  Donnell Solis
Nominee Submission:  "Fleet Auto Body has built a culture that fosters life-long learning, as many of their employees began as apprentices in the shop itself.  Fred Redekopp, the owner, believes in encouraging and supporting all staff, whether it is through training and education, or respect of their culture and religion.  Fleet Auto Body is a workplace that is prepared to invest in apprentices who are willing to focus on learning and success."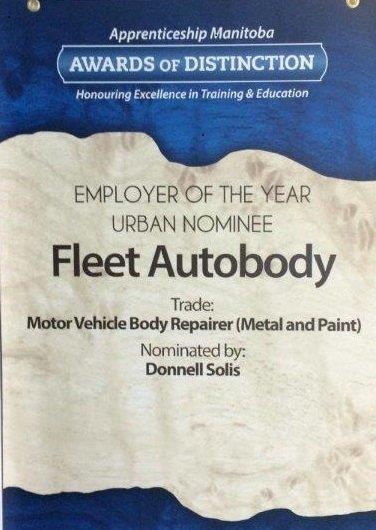 Fleet Auto Body has been designated as an MPI Direct Repair Shop
Fleet Auto Body has been designated as an MPI Direct Repair Shop - Direct Repair enables customers with eligible claims to proceed directly to Fleet Auto Body for a vehicle damage estimate after reporting the claim to MPI, instead of attending an MPI Service or Claim Centre. Direct Repair streamlines the repair process and can save you time by eliminating the need to visit MPI for your first vehicle damage estimate.
"2016's Tuner Battlegrounds Champion", Body Modifications & Paint by Fleet Auto Body